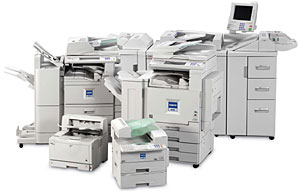 Dear Friend in Business,
Print... Copy... Scan... Fax...
In black and white or color!

Network-ready systems that improve
productivity, streamline workflow and reduce
costs.

A full line of color and B&W digital imaging
systems, color and B&W network laser printers
and fax machines

Scan to email. Scan to file. Store hardcopy
documents electronically. Print in full color, and more.
Now business color is for everyone. Print, copy, scan to file. scan to email... all in color.
Create presentations, proposals, and reports certain to be noticed with color. Duplex, collate and staple with exceptional speed... right from your desktop. You'll be glad to say, "SAVIN works here!"
Website design by
Browse Our Site:
• Home
• About Us
• Products
• Service
• Drivers
• Supplies

Contact Us:
Address:
1426 Logan Ave
Cheyenne,WY
82001
Phone:
307-778-4181

Authorized:
We are an Authorized Dealer for: